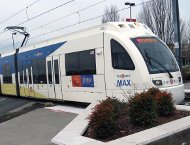 "Light rail is actually a low-capacity system, and the streetcar is simply irrelevant. TriMet's buses carries two-thirds of all regional transit trips on a daily basis, and that's the service that should be recognized as high-capacity transit. Unfortunately, bus service is being sacrificed by TriMet in order to build costly new rail lines that carry relatively few people."
What do you have to say to that, TriMet?
My only wonder is if this is credible information?