Hahaha, poor Trimet execs, can't take the heat huh? Lets take a look at the 'fact check'
Claim:
"In June of last year, as the TriMet Board approved cuts to service and fare increases they also approved more than $900,000 in raises for TriMet executives. There was no public discussion. The raises weren't listed as an item in the budget—they were buried inside TriMet's $20,000,000 contingency fund. To many, it seemed that TriMet was less than transparent. Perhaps an attempt to hide the raises from the public."
Fact:
After freezing non-union wages for 3-1/2 years,
(which Mcfarlane used to go around saying was 4 years a year ago)
TriMet increased non-union wages last July by an average of 3 percent. The increase totaled just $910,000,
(just $910,000, as if its nothing)
less than 1 percent of the $473 million operating budget.
(once again, as if its nothing)
The claim that that there was an attempt to hide the raises from the public is false.
(then why did the public not know about it)
We provided the information to the Board of Directors, the General Manager's Budget Task Force and the transit advocacy group OPAL. (
none of those mentioned is 'public' and I've asked OPAL to verify the claim that they were told)
However, the salary increase should have been discussed publicly, and we will be more transparent going forward. We are committed to continuous improvement and know that we can always do better, and will.
(people that believe this are just plain blind)
Claim:
"Most of those raises went to executives, already making 6-figure salaries."
Fact:
The total $910,000 in non-union salary increases was spread out over all 420 non-union employees. Only 2 of the 7 Executive Directors had their salaries adjusted because they were below market
(below 'market', whatever that means)
and we faced concerns about inequity.
(those poor unfortunate executives having to face inequality like that)
Lets take another look at these 3% raises: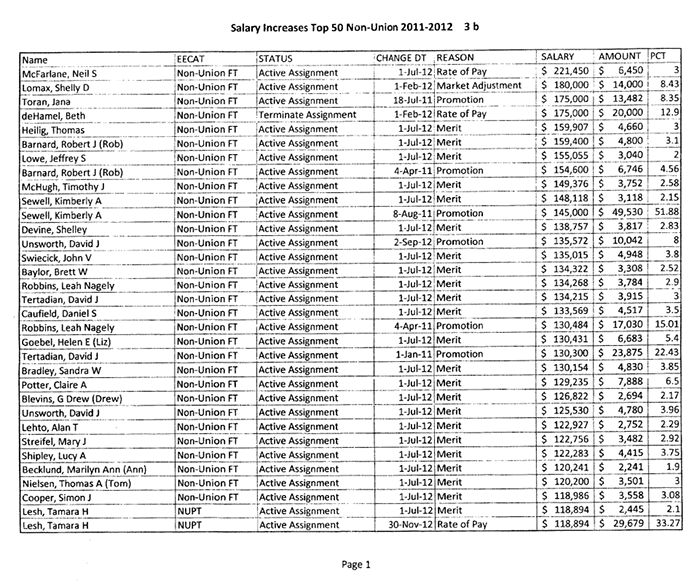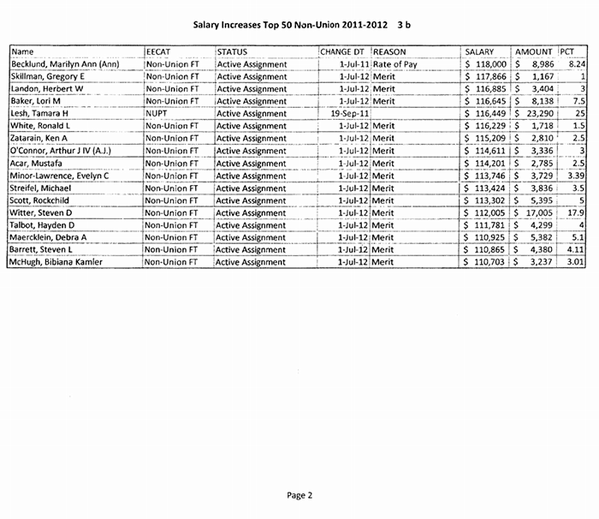 Some of those raises are a hell of a lot greater than 3%
Claim:"Records given to KOIN news by TriMet show at least 70 TriMet executives and managers making salaries above $100,000. A similar search reveals just 51 Denver managers making 6-figure salaries."
Fact:
TriMet actually has 49 non-union general fund employees with salaries above $100,000, more than half include the following positions: GM, 7 Executive Directors, 15 IT professionals, 6 attorneys and 9 operations management. This figure – 49 – should be the number directly compared with Denver's 51 staff members earning more than $100,000.
There are 21 non-union TriMet employees that are funded through the Portland-Milwaukie Light Rail Transit Project that make more than $100,000. These jobs are highly skilled engineering and construction jobs that end with the project. The project funds are restricted to the project and cannot be used to restore service or reduce fares.
(That makes 70 executives being paid by the tax payers fools. Doesn't matter what tax payer fund they are paid from)
Claim:
"Portland's cost of living is slightly higher than Denver's."
Claim:
"Your salary, you know you just gave yourself a raise; you make a little over $221,000."
Fact:
The statement "you just gave yourself a raise" is absolutely wrong. General Manager McFarlane does not set his salary. The Board of Directors is in charge of hiring, firing and setting the salary for the General Manager.
(hahaha, the sock puppets decided to give him a raise, well actually ya, that is believable)
Claim:
"TriMet lacks a permanent citizen oversight or advisory committee that almost every other major transit agency in this agency has."
Fact:
TriMet was created by the Oregon Legislature in 1969. The Governor appoints the seven members of the TriMet Board of Directors and the Senate confirms their appointment. These are dedicated citizen volunteers who bring their expertise to the overseeing the activities of the transit agency. The Board also has a citizen committee reporting to it – the Committee on Accessible Transportation – that provides guidance and direction on issues related to elderly and riders with disabilities.
(this is what mchuff said, the board of puppets is the citizen advisory committee, unfortunately they are puppets and do nothing)
There is a couple other things there but I am tiring of dealing with this